Alstom Power Generation, Deeside Power Station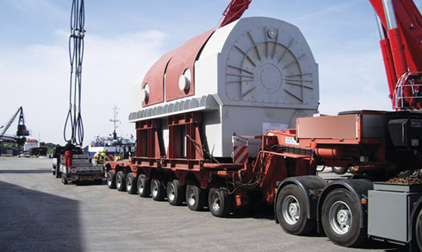 Working with Natco AG (the shipping department of Alstom, Switzerland), we recently completed delivery of two component parts of a hub taken from a power plant in Deeside.
The components comprised a 147T Generator Stator and a Gas Exhaust diffuser.
Due to their nature, both loads posed different logistical problems. As the generator stator grossed in excess of 150 tonnes, we were required to obtain a BE16 Special Order abnormal load permit from the UK Highways Department.
The application includes the requirement to complete a "water first" survey to ascertain the most cost effective and efficient mode of transport, which in this case was by road. Although much lighter, the exhaust gas diffuser was 5.90m wide and necessitated another abnormal load permit, this time in the form of a VR1.
At 4.90m high (5.30m high on our waferdeck low loader), the diffuser had to move via the high and heavy load grid network, as it was much too high to be transported by the standard bridge height route of 5.00m. We completed route surveys for both loads as part of the detailed planning and remained in close contact with the relevant police and highways authority for the duration of the project.
For the lift from the ship at Ellesmere Port, we contracted a Liebherr 1200 tonne mobile crane (the biggest and only crane of this size in the UK). Delivery was made the day after the lift and to prevent another costly crane lift at Deeside power station, the generator was "jacked" down to ground level.
We have since been assured by Natco and Alstom UK that this is the first of many such jobs we will be invited to tender on. For more information about our jacking and machinery installation services, please contact our traffic office.